Welcome!
Lake Norman Soda Blasting delivers a cost-efficient, eco-safe and sensible solution for all your paint removal and surface cleaning needs.℠
Mobile Paint Removal and Surface Cleaning
We use high-tech, state-of-the-art equipment, compressed air and FDA-approved, water-soluble, non-destructive sodium bicarbonate to safely strip paint and eliminate dirt, mold, grime, fire damage, soot, graffiti and driveway grease stains from a variety of surfaces including aircraft, brick, chrome, concrete, fiberglass, hydraulics, machinery, metal, wood and more!
Save Time and Money
Because soda blasting takes a third of the time compared to conventional and potentially damaging methods of paint stripping, we save you time and money. You don't have to mask glass, remove rubber, add primer or secure wires when you soda blast. Unlike sand and other forms of media blasting, our clean-up process is quick, easy and safe on the environment.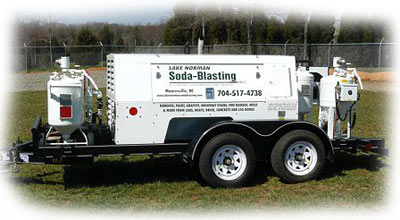 Lake Norman Soda Blasting works with auto body shops and car enthusiasts, boat owners and marinas, the food service industry, homeowners, insurance adjusters, local municipalities, contractors, realtors, restaurants, transportation (airlines, bus companies and railroads) and more!
The Eco-Friendly Choice
We are the premier choice for paint removal and surface cleaning services for cities, businesses, homeowners and race teams in North and South Carolina, Tennessee and Virginia. Contact Lake Norman Soda Blasting for more information about our chemical-free process and a free demonstration.